OnDek Vinyl Worx Inc. is a North American-made waterproof vinyl decking and roofing membrane that meets and exceeds national building codes. Our attractive products are ideal for residential outdoor living spaces and light commercial use, and are engineered to provide permanent, low-maintenance waterproof protection for balconies, decks, roof top decks and more.
Unique Vinyl
Decking Styles
---
With 8 exciting patterns that perfectly complement modern home design, OnDek Vinyl Worx products are North American-made, and meet US standards in accordance with ICC-ES AC75, Acceptance Criteria for Membrane Roof-Covering Systems.
Built On 15+ Years of Success
---
OnDek Vinyl Worx Inc. builds on the success of our parent company, Innovative Aluminum Systems, Inc., in business since 2004. Our mission is to provide the highest possible level of professional construction products and service for our clients.
Exceptional Customer Service
---
We are dedicated to superior pre and post-sales support. We support our dealer network with the best waterproof vinyl decking products, marketing tools, and customer service in the industry.
"North American made vinyl from a source you can count on"
We install a good deal of waterproof membrane and are very selective when it comes to picking suppliers. UV stability is crucial for us at Edge Decking. Some off-shore vinyl has been known to "burn" under regular exposure to sun which can cause in an expensive replacement problem that no homeowner or installer wants to have. This is one of the many reasons I go with North American produced OnDek Vinyl Worx. Their high-quality membrane is made by the same company that makes Continental tires and has a customer-first warranty for both waterproofing and appearance. If you are looking for a supplier you can depend on, I suggest you reach out to these guys. You won't be disappointed.
Greg Steinthorson
President
Edge Decking
"OnDek's UltraSeam comes out on top"
We've built our reputation on the quality of our materials and workmanship. At Phoenix Ediger Sundecks we insist that our employees stick to the highest standards when installing all our products. The seams on a waterproof deck are of utmost importance for waterproofing, and we do a triple pass to ensure that all welded seams are as strong as possible. OnDek Vinyl Worx is our preferred supplier of vinyl and in our testing their Ultra Seam has come out on top. We're proud to be an OnDek authorized dealer and highly recommend their products and service.
Kelly Chahley
Office Manager
Phoenix Ediger Sundecks
"Many modern and classic style options"
An important part of what we do at Casa Sundecks is vinyl decking. With our high attention to detail and diligence during installation, your waterproof deck will stand the test of time. With that in mind, selecting a suitable design is key. We use OnDek Vinyl Worx which comes in many colour patterns. We are confident that our customers will find a look that will compliment their style, thanks to OnDek's modern and classic styles.
Mike Parker
President
Casa Sundecks
The OnDek Vinyl Worx Ultra Seam Test
OnDek Vinyl Worx Ultra Seam holds up in extreme use. See how the Ultra Seam holds up against the competition and why our vinyl decking is the ideal choice for residential outdoor living spaces and light commercial use.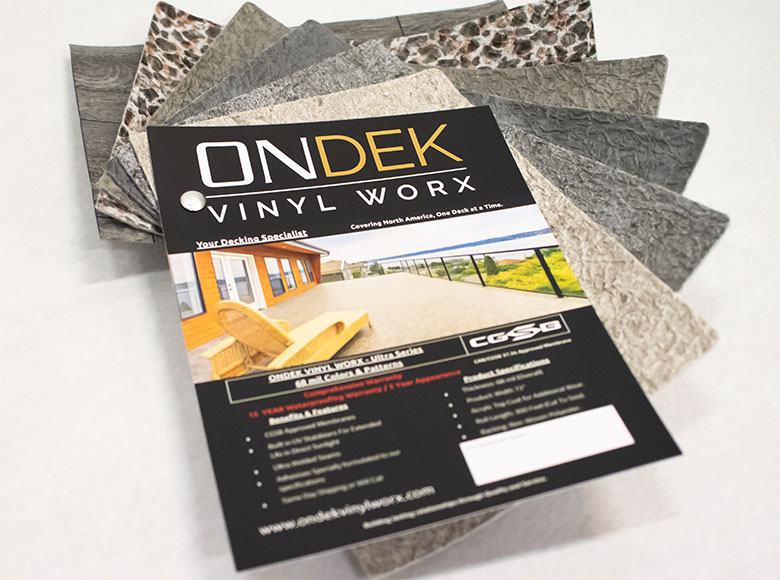 Free Design Kit
See and feel the quality of OnDek Vinyl Worx Vinyl Decking. Send us a request and we'll get your free design kit shipped out to you immediately.