OnDek Vinyl Worx Inc. is a North American-made waterproof vinyl decking and roofing membrane that meets and exceeds national building codes. Our attractive products are ideal for residential outdoor living spaces and light commercial use, and are engineered to provide permanent, low-maintenance waterproof protection for balconies, decks, roof top decks and more.
Unique Vinyl
Decking Styles
---
With 6 exciting patterns that perfectly complement modern home design, OnDek Vinyl Worx products are North American-made, and meet US standards in accordance with ICC-ES AC75, Acceptance Criteria for Membrane Roof-Covering Systems.
Built On 15+ Years of Success
---
OnDek Vinyl Worx Inc. builds on the success of our parent company, Innovative Aluminum Systems, Inc., in business since 2004. Our mission is to provide the highest possible level of professional construction products and service for our clients.
Exceptional Customer Service
---
We are dedicated to superior pre and post-sales support. We support our dealer network with the best waterproof vinyl decking products, marketing tools, and customer service in the industry.
The OnDek Vinyl Worx Ultra Seam Test
OnDek Vinyl Worx Ultra Seam holds up in extreme use. See how the Ultra Seam holds up against the competition and why our vinyl decking is the ideal choice for residential outdoor living spaces and light commercial use.
Free Design Kit
See and feel the quality of OnDek Vinyl Worx Vinyl Decking. Send us a request and we'll get your free design kit shipped out to you immediately.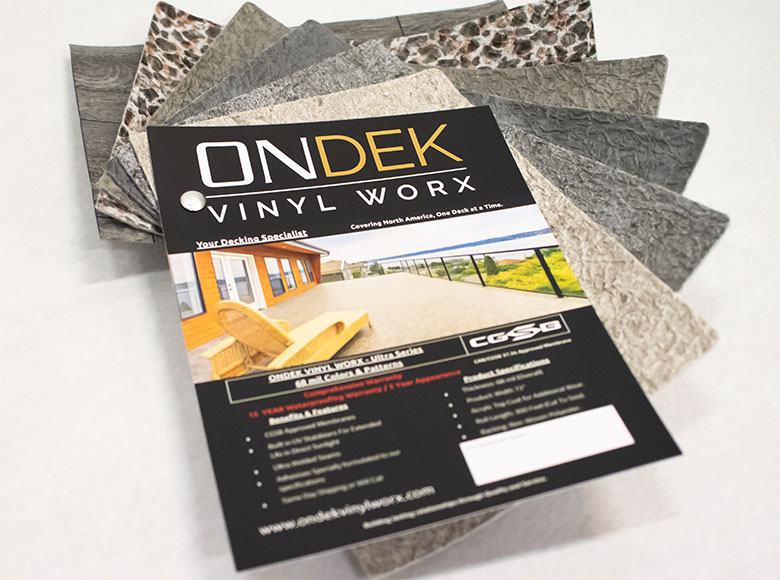 Contact Us for Your Free Design Kit
Contact us for your free OnDek Vinyl Worx Design Kit.