Working Together to Make Our World a Better Place
Many other roof and deck solutions are made up of a waterproofing layer, with a protective traffic bearing material applied over top. OnDek Vinyl Worx membranes offer an all-in-one roofing grade waterproof membrane that delivers an attractive, durable and slip resistant traffic bearing surface. This all-in-one system greatly reduces the overall material, installation and transportation requirements needed in completing an effective walkable roof and deck assembly.
OnDek Vinyl Worx Inc. takes pride in offering a green and sustainable waterproof membrane. We do our absolute best to protect and minimize our environmental impact for future generations. Let's work together in making our world a better place for us and the next generations to come.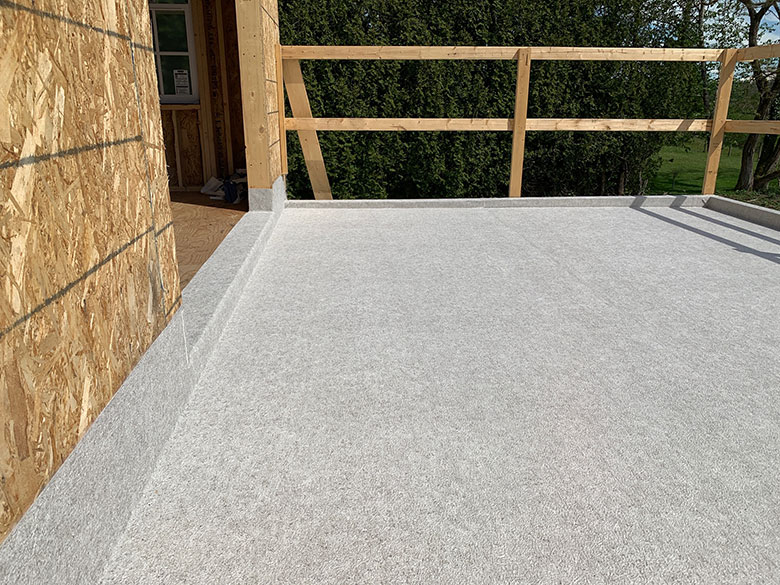 3 Key Points to PVC Membrane Sustainability
Recyclability
---
Scrap from vinyl membrane manufacturing has long been recycled into new accessory roofing products. But vinyl is the only commercial, sustainable deck and roofing material that is being recycled at the end of decades of service life into the feedstock to make new membranes.
Long Service Life
---
While all products have environmental impacts resulting from manufacturing and shipping, vinyl deck and roofing membranes have a long service life that is second to none. Many vinyl deck and roofing systems have been in service in excess of 25 years.
Low Embodied Energy
---
When compared to other roofing materials, less energy is needed to produce the raw material vinyl and process it into decking products. Most alternatives have far more embodied energy.
Compare PVC to the Alternatives
A PVC vinyl membrane offers a high performing, low slope deck and roofing solution. PVC membranes' inherent strength, waterproofing ability and fire resistance make them an extremely durable deck and roofing material.
When compared to pressure treated wood, there are no chemicals leaching into the environment and PVC typically offers about double the life expectancy of pressure treated wood decking.
OnDek's one-step application and longevity compare favourably to the multiple application and reapplication requirements of liquid-applied systems, saving many trips to the jobsite, which in turn reduces carbon emissions and consumes less energy.
OnDek Vinyl Worx membranes are made from thermoplastic PVC (Poly Vinyl Chloride). PVC products are well suited for recycling and virtually 100% of all trim and waste created in the manufacturing of OnDek's membranes are recycled back into other various types of PVC materials.
This saves thousands of pounds of scrap material from being sent into the landfill, and reduces resources expended by other building supply processes.
Video: An Overview of the Benefits of Vinyl